Golden State Priority Project
Eastern & Central Regions
Application Window: January - March 2023
The Golden State Priority Project application window is closed and no longer accepting applications.
Eligible Regions
DC fast charger rebates will be available for eligible sites in two regions: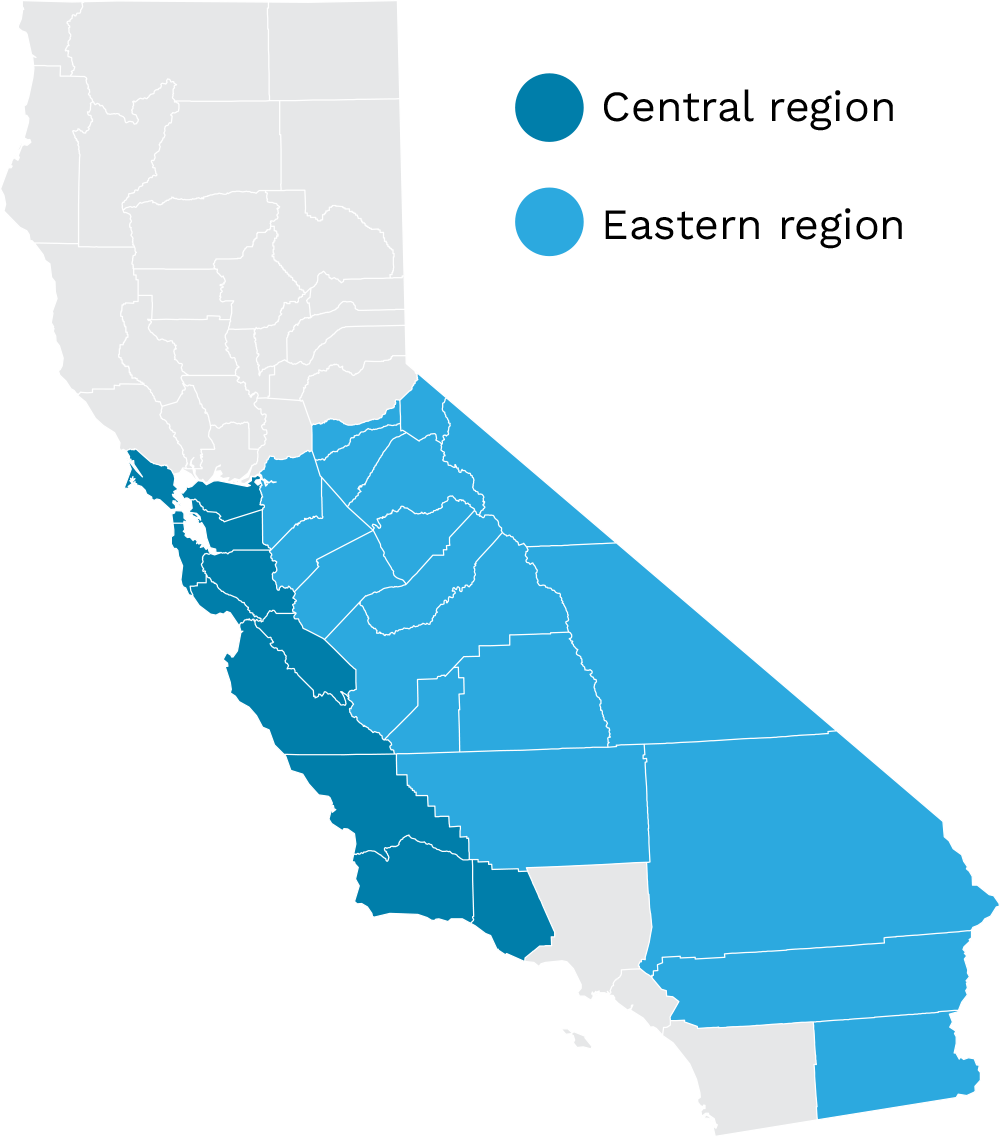 Central Region Counties
Alameda
Contra Costa
Marin
Monterey
San Benito
San Francisco
San Luis Obispo
San Mateo
Santa Barbara
Santa Clara
Santa Cruz
Ventura
Eastern Region Counties
Alpine
Amador
Calaveras
Fresno
Imperial
Inyo
Kern
Kings
Madera
Mariposa
Merced
Mono
Riverside
San Bernardino
San Joaquin
Stanislaus
Tulare
Tuolumne
Note: Funding for additional regions may become available in future Golden State Priority Project (GSPP) application windows, based on availability of additional rebate funds. Funds that go unused in the first GSPP application window may be used to fund subsequent GSPP application windows.
Project Overview
The Golden State Priority Project (GSPP) provides rebates for purchasing and installing eligible direct current (DC) fast chargers.
Incentives are available for project sites in the eastern and central regions of California (see map above).
Eligible applicants can qualify for rebates up to $100,000 per connector or up to 50% of their project's total approved costs, whichever is less.
Funding is only available for sites located in disadvantaged community (DAC) or low-income community (LIC) census tracts.
Qualified applicants will be awarded funding based on a tiered application selection process that prioritizes shovel-ready projects.
GSPP is funded up to $30 million through the California Energy Commission (CEC).
Application Window Statistics
$68,985,000 Requested Rebates
143 Applications Submitted
$29,880,000 Total Funds Reserved
76 Funds Reserved Applications
| | Central Region | Eastern Region |
| --- | --- | --- |
| Applications in Funds Reserved | 30 | 46 |
| Active Connectors | 196 | 311 |
Funds Reserved Tiering Breakdown
| | Tier 1 | Tier 2 | Tier 3 |
| --- | --- | --- | --- |
| Central Region | $2,420,000 | $4,600,000 | $3,940,000 |
| Eastern Region | $1,650,000 | $3,060,000 | $14,210,000 |
Funds Reserved by Power Level
150 kW – 274.99 kW
476 Rebate Connectors
275kW+
31 Rebated Connectors
Central Region
$10.6 Million
$0.4 Million
Eastern Region
$15.6 Million
$2.7 Million
DC Fast Charger Rebate Amounts
Rebates for eligible equipment may equal up to 50% of the project's total approved costs subject to the rebate caps listed. Total approved costs may include equipment, installation, planning, engineering, etc. See "Eligible Costs" for full details.
| Guaranteed Output per Active Connector | Rebate Cap per Active Connector |
| --- | --- |
| 150kW - 274.99kW | $55,000 |
| 275kW+ | $100,000 |
Requirements & Additional Information
Applicant Eligibility Requirements
Eligible applicants must:
Be a site owner or their authorized agent (such as a property manager, EV service provider or contractor) with a Site Verification Form submitted at the time of application.
Be a business, sole proprietorship, nonprofit organization, or a public or government entity, that is either based in California or operates as a California-based affiliate, or be a California Native American tribe listed with the Native American Heritage Commission
Any threatened or actual legal action against the Applicant Organization cannot impact the completion or operation of the Proposed Installation or disbursement of the reserved rebate funds.
Site Eligibility Requirements
Eligible site types include:
Airports
Business districts
Casinos
City, county or privately owned parking lots or garages
Colleges or universities
Community centers
Gas Stations
Grocery Stores
Hospitals
Hotels
Large-format retail
Libraries
Places of worship
Police of sheriff stations
Public transit hubs
Restaurants
Retail shopping Centers
Additional site requirements:
Site must be located in a DAC or LIC census tract, as defined by the California Climate Investments Priority Populations Map.
Premises must be well-lit, secure and in compliance with all federal, state and municipal laws, ordinances, rules, codes, standards, and regulations.
Sites must install a minimum of 4 GSPP-eligible active connectors and can receive a rebate for up to 20 GSPP-eligible active connectors.
The charger(s) must not be located behind a fence or in a gated parking lot closed to the public after hours.
Chargers cannot have any time restrictions for availability to the public.
Charging stations in stand-alone parking lots or parking garages not dedicated to a particular business or property (e.g., grocery stores and shopping centers) must have the chargers publicly available at least 18 hours a day, seven days a week, excluding holidays.
Download
/sites/default/files/docs/golden-state-priority-project/CALeVIP_Site_Verification_Form.pdf
/sites/default/files/2023-01/Site_Verification_Form_Resource_Guide.pdf
/sites/default/files/docs/CALeVIP_Network_Provider_Intake_Form.pdf
/sites/default/files/docs/golden-state-priority-project/equipment-eligibility-resource-guide.pdf
/sites/default/files/docs/golden-state-priority-project/gspp-implementation-manual.pdf
/sites/default/files/2023-01/GSPP1-Terms-and-Conditions.pdf
/sites/default/files/docs/golden-state-priority-project/eligibility-application-process-overview.pdf
/sites/default/files/docs/golden-state-priority-project/applicant-and-site-eligibility-resource-guide.pdf
/sites/default/files/docs/golden-state-priority-project/permit-application-utility-service-design-package-resource-guide.pdf
/sites/default/files/docs/golden-state-priority-project-north-south/gspp2-implementation-manual.pdf
/sites/default/files/docs/golden-state-priority-project-north-south/GSPP2-Terms-and-Conditions.pdf
/sites/default/files/docs/golden-state-priority-project/GSPP-northern-southern-overview.pdf
/sites/default/files/docs/golden-state-priority-project/GSPP-northern-southern-eligibility.pdf
/sites/default/files/docs/golden-state-priority-project/GSPP_NS_Tiering-Resource-Guide.pdf
/sites/default/files/docs/golden-state-priority-project/GSPP_NS_Cover%20Sheet.pdf
Installation Requirements
Per CA Public Utilities Code 740.20, the installation of EV chargers must be completed by Electric Vehicle Infrastructure Training Program (EVITP) certified electricians.
If the electric vehicle charging supports a charging port supplying 25 kW or more, at least 25% of the total electricians working on the crew, at all times during work hours, must hold EVITP certification.
One member of each crew may be both the contractor and the EVITP-certified electrician.
Equipment Requirements
DC fast charger installations must be:
New, stub-out/make-ready or replacement

DC fast chargers are eligible for replacement only if their power output is below 40 kW.
Non-DC fast chargers are not eligible for replacement under the Golden State Priority Project.
DC fast chargers must:
Be new equipment, installed for first time.
Use Combined Charging System (CCS) connectors and/or CCS adapters that are fully integrated into the charger such that they cannot be removed from the site.

Tesla and CHAdeMO connectors may be installed but will not be considered when determining the maximum rebate amount for the installation.

Be networked, meeting the following criteria:

Equipment must be networked via Wi-Fi, ethernet or cellular connection (4G and above).
Equipment must connect to a back-end network and be capable of "over-the-air" updates.
Equipment must be capable of utilization data collection.
Equipment must include a minimum five-year networking agreement, eligible toward total approved costs.

Be capable of at least a 150 kW guaranteed power output at each active connector.
Use an implementation of the Open Charge Point Protocol (OCPP) version 1.6 or later.

Via self-attestation on product specification sheet.

Not require a subscription or membership to dispense energy.
If payment is required, the following payment options must be physically located on the charger, or on a kiosk serving the charger:

An EMV chip reader.
A mobile payment device.
A toll-free number.

Be certified by a Nationally Recognized Testing Laboratory Program (NRTL) to either UL 2202 or UL 9741.
Be registered on the Eligible Equipment webpage as eligible for the Golden State Priority Project.
Effective July 1, 2023, DC fast chargers must also be:
ENERGY STAR certified.
Certified by Open Charge Alliance (OCA) for OCPP 1.6 or later.

At minimum, both a subset certificate and a security certificate will be required.
Certification for OCPP2.0 will be required by 2025.

ISO-15118 "Hardware Ready" via self-attestation to the CEC, which includes support for the following:

Powerline carrier (PLC) based high-level communication as specified in ISO 15118-3.
Secure management and storage of keys and certificates.
Transport Layer Security (TLS) version 1.2; additional support for TLS 1.3 or subsequent versions recommended to prepare for future updates to the ISO 15118 standard
Remotely receiving updates to activate or enable ISO 15118 use cases.
Connecting to a back-end network.
Don't see your charger on the list?
Network Provider Requirements
All network providers must meet the following requirements to participate in the Golden State Priority Project:
Provide networking services for EV charging stations.
Have a signed data-sharing agreement in place with project administrator Center for Sustainable Energy (CSE).
Implement a mechanism to transfer the required data to CSE with a format and frequency that is acceptable to CSE and CEC.
Be capable of obtaining and providing the charging session data identified in each network provider's data sharing agreement using 15-minute intervals. At minimum, data fields should include:

EVSE ID
Port ID
Port maximum kW
Connection start/end date
Connection start/end time
Charge session start/end date
Charge session start/end time
Energy consumed
Interval ID
Interval peak demand
Interval start/end date
Interval start/end time
Interval energy consumed
Interval average demand
Idle duration
Downtime reason
Event start/end date
Event start/end time

Don't see your network on the list?
Stackable Incentives
Rebates from programs that are considered stackable may be used to cover EV charger installation project costs not covered by GSPP, but in no case may stacking of rebates exceed actual costs of the project. Only by meeting all project requirements will an application be eligible for CALeVIP rebates. Determination of eligibility for any stackable programs does not confer eligibility under the GSPP.
Other potential sources of funding may include, but are not limited to, the Low Carbon Fuel Standard (LCFS). The GSPP application form will include one or more questions to collect information on planned LCFS designation.
Application Process
Scroll through this interactive timeline to view the application process step by step.
Step 1
Confirm your site is eligible
Step 2
Complete required elements of site design
Step 3
Apply for relevant permits and new/upgraded utility service
Step 4
Prepare and upload required documents
Step 5
Submit rebate application during the application window
Step 6
Receive notice of reserved funds
Step 7
Provide copy of equipment order and issued permit within 60 days
Step 8
Complete installation using the Construction Progress Tracker (CPT)
Step 9
Schedule inspections and required utility installations
Step 10
Schedule energization and commissioning of chargers
Step 11
Submit final documents for rebate disbursement
Step 12
Receive your rebate payment via check or ACH
Once the application window opens, applicants will be able to log in to the application portal and begin the process. Applicants will be able to save their applications during the application window and hold several applications open at a time. Note that this is a separate application portal from previous CALeVIP projects.
During the application window, applicants will be able to do the following:
Provide information on the online application form about the rebate recipient, site, equipment being installed and network provider selected.
Save, edit and finalize online application form.
Contact CSE for assistance verifying that the correct documents have been prepared and completed correctly.
Upload required documents once finalized.

Note that once uploaded, a document cannot be corrected, so please do not upload a document until it is ready for submission.
After completing all the required information and documentation, applicants will be able to submit their application.
All applications must be submitted prior to the close of the application window and only one application per site will receive rebate funding.
Applicant Tiers
Once submitted, applications will be sorted into the following tiers, based on the documents submitted for the Permit Application Package and Utility Service Design Application Package:
| Tier | Required Documents at Application |
| --- | --- |
| 1 - Highest "Ready to Build" | Site Verification Form + Issued Permit AND Final Utility Design |
| 2 - Medium "Design Approved" | Site Verification Form + Issued Permit OR Final Utility Design |
| 3 - Lowest "Design in Progress" | Site Verification Form + Permit Application Package OR Utility Service Design Application Package |
Note:Construction cannot have started prior to the close of the application window.
Applications will first be sorted into tiers. Tier 1 applications that are verified to meet all minimum requirements will be selected for funding. Tier 2 and Tier 3 applications will be reviewed and selected subsequently, from highest to lowest priority, as funding allows. If there is not enough funding for all applications in a tier, applications will be randomly selected from that tier until funds run out and applications in lower tiers will not be funded.
If an application has rebate funds reserved, CSE will send a Funds Reserved email to notify the applicant. The applicant has 450 calendar days from the Funds Reserved date to complete the project and submit all required documents
If the application has not had funds reserved, CSE will send an email informing the applicant of this result, their application's tier and why the application was not selected (e.g., not enough funding, duplicate application for the same site, incomplete documentation, etc.).
Applications are eligible to receive one rebate payment at project completion.
Required Documents
All applicants will be required to provide the following documentation in the CALeVIP 2.0 application portal before CSE can issue the final rebate payment. Note that this is a separate application portal from previous CALeVIP projects.
Required within the application window time frame:
Complete the Site Verification Form.
Submit Permit Application Package or Utility Service Design Application Package.
Optional within the application window time frame:
Submit copy of permits from local agency, and/or (if applicable) final utility service design.
Required within 60 calendar days of Funds Reserved date:
Submit copy of permits from local agency, and (if applicable) final utility service design.
Submit proof of equipment order demonstrating that all required electrical equipment and charging equipment has been ordered.
Required for final payment:
Submit paid invoice for engineering and design costs.
Submit paid purchase invoice for equipment.
Submit paid invoice for all installation costs.
Submit at least two photos of installed and operational equipment.
Submit network agreement acknowledgment form.
Submit inspection card, including inspector signoff.
Complete Installation Data Form with EVITP certification information and equipment serial numbers.
Easy Online Upload
Log in with your email and password
Navigate to your application by clicking the associated application number in the application portal.
Upload and submit your supporting documents online. Don't forget to click the Submit button once you've uploaded your documents.
Definitions
Active connector: The number of DCFC connectors that can supply the rebated guaranteed output at any one time.
Airport: Parking facilities at airports that serve the public are eligible primary sites. Long-term parking uses are not allowed.
Application window: The time frame during which applicants are able to apply for rebate funding.
Business district: An area within a community that has a high concentration of businesses and average dwell times of 30 minutes or less. The site must have a direct line of sight to the major road. This is typically the central area or commercial center of a town or city, though many business districts may be present within a single town or city. Dealerships, office buildings, and warehouses are not eligible under this site type.
Casino: A building where gambling games of chance against the house/casino are played. Standalone poker rooms or card halls are ineligible.
City/County/Privately-owned Parking Lot or Garage: A publicly or privately owned parking building or parking lot (i.e., parking is the primary use) that provides parking spaces to the public and is accessible at least 18 hours a day, seven days a week, excluding holidays. Workplace locations and long-term parking uses are not eligible. Pay-to-park is eligible.
College/university: Must be an accredited, nonprofit two- or four-year college or university.
Community Center: A facility owned and operated by a public agency or a non-profit community organization. The primary purpose of the facility must be for recreation, social welfare, community improvement, or public assembly.
DC fast charger (DCFC): A DCFC is defined as the equipment that connects a vehicle to a site's electrical service and can provide a power output at or above the minimum rebated power capacity without any operational limitations.
Disadvantaged community (DAC): These communities are disproportionately burdened by multiple sources of pollution as identified in the California Communities Environmental Health Screening Tool CalEnviroScreen Version 4.0 developed by the California Environmental Protection Agency's Office of Environmental Health Hazard Assessment. Census tracts in the top 25% of CalEnviroScreen 4.0 scores, census tracts in the highest 5% of CalEnviroScreen 4.0 cumulative pollution burden scores, census tracts identified in the 2017 DAC designation as disadvantaged and lands under the control of federally recognized tribes are eligible for the project.
Electric Vehicle Infrastructure Training Program (EVITP): Provides training and certification for electricians installing electric vehicle supply equipment (EVSE).
Energy Storage: Energy storage is a stationary storage application that can be defined as a smart energy management system that receives information from a battery management system. Generally, energy storage serves as a peak load-shaving strategy.
Gas station: Any new or existing facility that, as its primary use, serves as a motor vehicle fueling service station retailing petroleum-based automotive fuels (e.g., gasoline, diesel, E10/E15) to the general public and has additional complementary customer store(s) or service(s) located on-site.
Grocery store: A store that sells food and household supplies.
Guaranteed output: The maximum power that can be provided per active connector when all active connectors are in use.
Hospital: A facility providing medical, psychiatric or surgical services for sick or injured persons primarily on an inpatient basis, including ancillary facilities for outpatient and emergency treatment, diagnostic services and training.
Hotel: A hotel must meet three criteria:

A permanent building for the primary purpose of short-term lodging.
Provides dining, shopping or entertainment options available to the general public, OR is less than a quarter mile from another DCFC-eligible site.
Located in a rural area (population below 2,500) and within five miles from a major highway, OR located in an urban area or cluster (population that is 2,500 or greater).

Large-format retail store: Large, free-standing, generally single-floor retail stores over 80,000 square feet offering a variety of products.
Library: A place in which literary, musical, artistic or reference materials (such as books, manuscripts, recordings or films) are kept for use but not for sale.
Light-duty fleet: Groups of motor vehicles owned or leased by a business, government agency or other organization rather than by an individual or family. Chargers may be public or private and must be shared use. Chargers must primarily serve light-duty vehicles but can serve medium- and heavy-duty vehicles as a secondary use. Primary use of chargers cannot be for medium- or heavy-duty vehicles.
Light-duty vehicle: A vehicle with a gross vehicle weight rating of 8,500 pounds or less.
Low-income community (LIC): For the purposes of the project, the census tracts that are either at or below 80% of the statewide median income, or at or below the threshold designated as low-income by the California Department of Housing and Community Development's (HCD) 2021 State Income Limits.
Permit Application Package: The package submitted to the permitting agency as an application for a permit, including permit application, plan set and receipt for paid plan check fees (where applicable).
Police/sheriff station: Police and sheriff stations include storefront police or sheriff substations that serve the surrounding community and adjacent areas. Police/sheriff station sites are still subject to public accessibility requirements and should not be primarily for fleet use.
Public transit hub: Centers for public transit, including light rail stations, train stations and bus stations. Does not include park-and-ride lots.
Restaurant: A business where meals and refreshments may be purchased.
Retail shopping center: A group of retail and other commercial establishments that is planned, developed, owned and managed as a single property.
Stub-out: Stub-out will include at least 2-inch minimum spare conduit run with pull rope that is sized, installed and located per the National Electrical Code for future installation of wiring supporting up to a 480-volt (V) alternating current (AC), 4-wire, 125 kW load.
Total approved costs: The sum of the costs incurred by the rebate recipient that are eligible to be covered by the rebates issued through the first window of the Golden State Priority Project.
Utility Service Design Application Package: The documents submitted to the utility as an application for utility service design, including service design application, plan set/electrical drawings and receipt for paid engineering advances (where applicable).